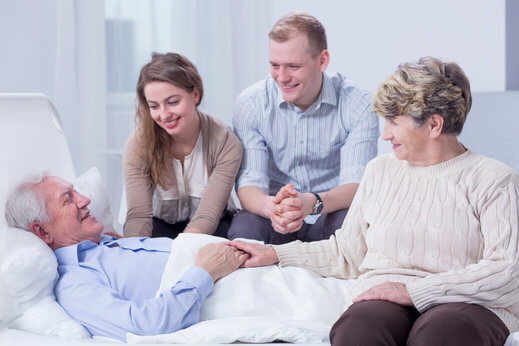 The comfort and convenience that providers of hospice care services offer are exactly what families need in order to keep the normalcy of their daily routine. For families to continue providing their basic needs, they also need to attend to their responsibilities to be able to pay the bills, have food to fill their bellies, and put a roof over their heads.
The reason why we provide hospice care in Dallas, Texas is to help families find an easier ground to handle care responsibilities and work responsibilities all for their best interest, most especially for their senior loved ones.
The essence of hospice care is caring NOT curing. The long-term care that senior patients receive mean that they will be dealing with and receiving care from trained healthcare providers, so it is necessary that they feel comfortable and safe with the care services they receive. We make it our sole obligation that their well-being and happiness are always given utmost attention. Hospice care offers the following aspects to senior patients:
Uphold Patient Dignity
Senior patients are still, without a doubt, patients, no buts, and no prejudices. When we deal with our senior patients, we like to be in their presence and consider them as fully capable individuals who like to interact with our healthcare providers. As much as possible, we consider their input on what they like to wear, what they wish to do and eat during the day, and not see them any differently. By upholding their dignity, we continuously achieve client happiness.
Treat Patients with Respect
Considering different patient requirements, our training helps us understand the emotions and conditions of our clients. We deliver our palliative care in Texas with full respect for clients and attend to their needs with privacy and discretion. Their comfort and trust in our services give them and their families the peace of mind while they are away from each other.
Give Them Safety and Comfort
Any client or patient can receive care from healthcare providers or immediate family members yet still have the uneasy feeling being under their care. We continuously aim to break this cycle of patient and caregiver stress with every client listed in our care because their happiness gives them a better outlook in life and a light disposition during their stay.
Families can maximize hospice care services to provide the best possible care for their senior loved ones.
Know a family looking for hospice care services in Texas? Elite Hospice of Texas may be able to help with their senior care needs. For care information and directions, please call 972-770-0597.